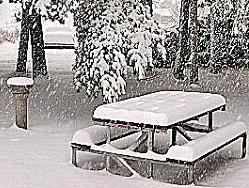 Snow is expected over much of the state Friday. Some roads were declared treacherous by the DOT early. Time to remember how to drive in winter weather.
Driving in the season's first snowfall can come as a shock even for a veteran winter driver. Dennis Hughes with the DOT says for him that first encounter with snow, ice or slush is usually the worst. (Photo: Taken 10:30 this morning in west central Wisconsin.)
Hughes says motorists are used to cruising along in relatively good weather and they tend to forget how dangerous snow, ice and slush can be. On average, there are 75 deaths and 7,000 injuries every winter in Wisconsin.
It's often that first snowy mishap that jogs our winter driving memories. Hughes says the best advice is to think ahead and just slow down.