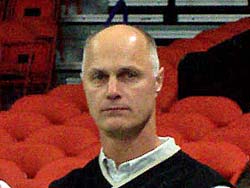 UW-Green Bay women's basketball coach Kevin Borseth (pictured) is interviewing for the vacant University of Michigan women's basketball head coaching job.
Borseth turned down the Colorado job two years ago, but he's called this Michigan job his dream job. 
Cincinnati has also called recently to ask UW-Green Bay for permission to speak to Borseth, but there's no word on whether or not he'll talk to that school about the job.