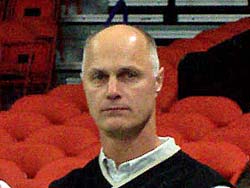 The University of Wisconsin-Green Bay is looking for a new women's head basketball coach today.  Kevin Borseth (pictured) accepted the head coaching job at the University of Michigan, leaving Green Bay after nine seasons.
Borseth and his Green Bay Phoenix won a school record 29 games this past season, including 26 in a row.
Borseth's career record is 216-62 overall, including a 125-13 mark in the Horizon League.
His challenge is rebuilding a Michigan program which has been a consistent loser.  The Wolverines have dropped 20 or more games in each of the last three years.
UW-Green Bay is forming a search committee to find Borseth's successor.  Borseth replaces Cheryl Burnett, who is retiring after four seasons in Ann Arbor.