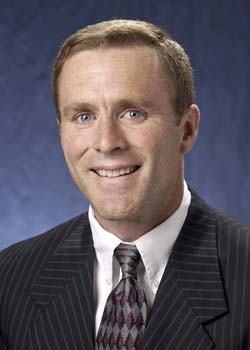 University of Wisconsin men's hockey coach Mike Eaves (pictured) has signed two more players for the 2007-'08 season.
Forwards Patrick Johnson of Madison and Sean Dolan of Chesterfield, Mo., are set to join the UW in the fall.
The 5'9 and 155 pound Johnson is the son of Badger women's coach Mark Johnson.  Patrick Johnson played for the Lincoln Stars of the United States Hockey League (USHL) for the latter portion of this past season, collecting 11 goals and 27 points in 47 games.  He began the season with the Madison Capitals AAA team.
The 6'3, 180 pound Dolan played this past season for the Chicago Steel of the USHL.  In 59 regular season games, Dolan posted 22 goals and 40 points.  He added two goals and two assists in five playoff games.
Johnson and Dolan join six other Badgers who committed during the early signing period in November.