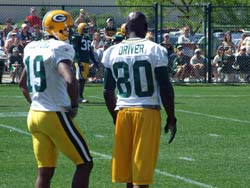 The Green Bay Packers opened training camp workouts today (Saturday) with one of the teams top leaders, wide receiver Donald Driver (pictured), on the sidelines.
Driver failed his physical because of a nagging right shoulder injury that goes back to the teams game against the San Francisco 49ers last season.
Packers head coach Mike McCarthy told reporters after the afternoon workout that Driver has a re-occurring injury with the shoulder and will be day-to-day.  McCarthy said the Packers are just being cautious with the injury.
Driver led the Packers with 92 receptions for 1,295 yards last season. 
Driver does come into camp heavier than last season.  He weighed in at 194 lbs., 4 pounds more then the 190 he played at last season.  Driver wanted to add muscle weight to his body to help him throughout the course of the upcoming season.
Driver has been as durable as they come at wide receiver.  He's missed just four starts in the last seven seasons for the Packers.
Listen / Download – Donald Driver on putting more weight on his frame. :15