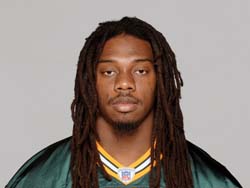 Green Bay Packers head coach Mike McCarthy is holding tryouts at safety in practice.  First to step to the plate is Atari Bigby, who worked in practice with the first defensive unit at both safety positions yesterday.
Nick Collins is one starter and Marquand Manuel the other, but Manuel's job could be in jeopardy.  This is the first time that the Packers have moved another player onto the first unit at the safety position during this training camp. 
Bigby went undrafted in 2005 and has called practice squads his home for much of the last two seasons. 
Bigby has played well in training camp so far and played reletively well in Saturday's preseason opener against the Pittsburgh Steelers.  But he did miss a pair of tackles, which is something he'll need to clean up.
Listen / Download – Bill Scott on Atari Bigby's working with the one's in practice. 1:00