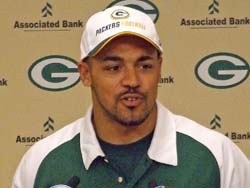 Green Bay Packers linebacker Nick Barnett (pictured) entered a pair of not guilty pleas on charges of disorderly conduct in Outagamie County Circuit Court.
The charges stem from a June incident at an Appleton Bar.  Both misdemeanor charges carry a maximum sentence of 90 days in jail or a $1,000 fine each.
Barnett said his profile as an NFL player factored in the charges being filed against him. 
A pretrial hearing is scheduled to take place in March.
Listen / Download – Barnett says his status as a player is the reason for charges. :20