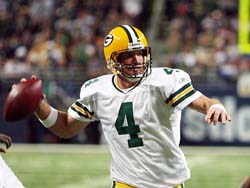 Four Green Bay Packers were named to the NFC Pro Bowl team on Tuesday, three of the four as starters. 
On offense, quarterback Brett Favre was voted a starter with wide receiver Donald Driver in as a reserve. 
On defense, defensive end Aaron Kampman and cornerback Al Harris were both voted in as starters.
For Favre (pictured), this marks the ninth Pro Bowl selection of his career and first since 2003. 
Driver earns his second consecutive and third career Pro Bowl selection.  He tied a franchise record with 1,000 receiving yards in a fifth overall season.
Kampman, in his sixth season out of Iowa, returns to Hawaii for the second consecutive year.  The defensive end has started 72 consecutive games for the Packers and stands tied for third in the NFC with 12 sacks.
Harris is the only Packers player making his first trip to the Pro Bowl.  In  his 10th NFL season and fifth with Green Bay, he has totaled 36 tackles, two interceptions and nine pass deflections.