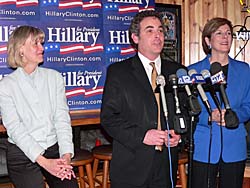 Obama takes the Badger State in the race to the White House, but Hillary supporters aren't ready to give up.
Lt. Governor Barbara Lawton, co-chair for the Midwest campaign, says she'll continue to stump for Hillary Clinton and she's looking forward to the process as it unfolds.
"Oh I'm not done. My committment to Hillary Clinton was swift and strong when she declared her candidacy and it will follow her right to the White House."
Wisconsin is Barack Obama's ninth consecutive win, but strong Hillary supporter, Dane County Executive Kathleen Falk, says Obama's momentum won't deter Hillary in her quest for the oval office.
"Not only does it not deter her but as she would say herself she's been in a lot of tough fights in the last 35 years and she's not one to shy away from a tough fight and that's what it is but it's very close in the delegate count with a lot of big states to go."
The Clinton camp is looking ahead to Texas and Ohio. Falk says both Democratic candidates are close in the delegate count and there are still plenty "up for grabs." Lawton says the nomination just might have to be decided at the National Democratic Convention.
"They may well go all the way to the convention … I would prefer that it were a clear and easy nomination, but it doesn't look like it will. That is a statement about the deep talent that we're drawing from in the Democratic party and these are two outstanding candidates."
The next Democratic primary is March 4th, with 228 delegates in Texas and 161 in Ohio.