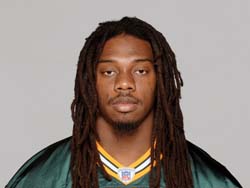 Safety Atari Bigby signed a 1-year qualifying offer to stay with the Green Bay Packers .  The deal is reported to be worth $445,000.
Bigby, as an exclusive-rights free agent, didn't have enough years in the league to qualify for restricted or unrestricted free agency and therefore wasn't able to shop for a deal.
Bigby started 16 games last season and finished with 86 tackles and five interceptions.