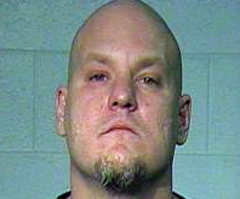 A 34 year old Illinois man admits he attacked a Cambridge Realtor, but says he didn't intend to kill her. That admission is in a complaint that was filed Thursday against James Hole, charging him with first degree murder and arson. Jefferson County D.A. Dave Waumbach backs up his first degree charge for the death of 71 year old Ann Nelson, noting that even if Hole only planned to kill Nelson moments before her death, that's sufficient premeditation to warrant the charge.
Bond was set at a million dollars. Nelson showed Hole a home Tuesday night. Hole told police he became upset when she questioned why he was looking at a property he wasn't going to buy. He told police he then strangled Nelson with her scarf and hit her with a fireplace poker. He also started a box of tissues on fire. Hole took cash from Nelson's purse and her diamond ring is also missing.
Hole changed his statements a couple times as to whether he took cash from Nelson's purse. He did have money later that night, as he told police he took his girlfriend out to dinner. The two apparently had plans to head to Wausau. Hole served 10 years in prison in Illinois, for sexually assaulting a woman and stabbing her in the neck.