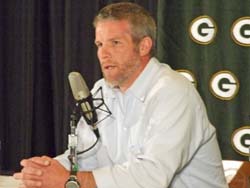 Following Thursday's emotional Brett Favre press conference, I'm totally convinced that we've seen the last of #4.  Oh, you might see him come back as an honorary captain, and for Hall of Fame induction ceremonies, but Favre looks like a man that is going to devote the rest of his life to hunting, fishing, golfing and spending time with whatever projects he can think of.
Watching Favre struggle through the initial stages of his hour long press conference  was kind of painful.  You felt sorry for him, not because of the tears, but instead for the void that will be created in his life without football.
We all wonder what Favre will do.  You know, I believe him when he says nothing.  He's known nothing else but football since college and the last 16 years in Green Bay were full of great reward.
Favre should be more ready to handle this transition from pro athlete to regular human being, because as he said yesterday, he's grown up.  He's become a better person.  And he's right.
When Favre arrived in Green Bay, he was a fun loving party animal.  He came face to face with some big problems as a result.  The support from his team and most importantly, his family, never wavered.
He's finally going to be able to devote all of his attention to his wife and children, something he couldn't fully do before.
Favre will have every opportunity to do many things from this day forward, but don't bet on him ever straying to far from the Favre estate in Mississippi.
Listen / Download – Brett Favre on what lies ahead? :23
Listen / Download – Brett on what he's going to do? :10