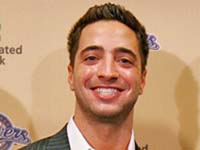 The Milwaukee Brewers have called a morning news conference this morning at Miller Park to announce that they've signed slugging left fielder Ryan Braun to a long term contract extension.
Braun's deal is expected to surpass the largest contract in club history, the $42-million deal that the Brewers gave pitcher Jeff Suppan prior to the start of the 2007 season.
Braun hit .324 ith 34 home runs and 97 rbi's in just 113 games last season, which earned him Rookie of the Year honors.  His slugging percentage (.634) was the highest for a rookie in Major League history.