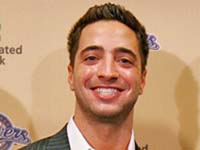 With the top three outfielders elected to starting spots, Milwaukee Brewers left fielder Ryan Braun (pictured) has climbed all the way to fourth place in the balloting after ranking just 10th two weeks ago.
Braun trails Ken Griffey Jr. (currently in 3rd place)) by less than 200,000 votes.  Alfonso Soriano and Kosuke Fukudome are ranked first and second among outfielders, respectively.
Braun clubbed two more home runs in the Brewers 7-0 win over Toronto on Tuesday night, giving him 20 for the season. 
Prince Fielder climbed from 5th to 4th at first base.  Rickie Weeks ranks 5th at second base, Bill Hall is fourth at third base, Jason Kendall is 4th at catcher and Corey Hart ranks 14th among outfielders.