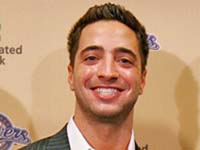 Milwaukee Brewer outfielder Ryan Braun wasn't able to keep up with Josh Hamilton and his 28 first round home runs, but Braun did get into the semifinals before departing the Major League Baseball Home Run Derby.
Braun clubbed 14 home runs, 7 in each of the first two rounds. In round one, Braun made six outs before his first home run. He then settled in, got into a groove and did enough damage to advance to the second round.
It was Braun's first All-Star Home Run Derby and hopefully it won't be his last. He handled himself very well and may be able to make even a bigger splash if given another opportunity.
Josh Hamilton didn't win it, that distinction belonged to Justin Morneau. But Hamilton was still the story after setting a record with 28 home runs first round home runs. Unfortunately for Hamilton and the Yankee Stadium crowd, Hamilton tired out, lost the groove he was in and fell to Morneau 5-3 in the championship round.
For Braun, it was a great experience. He said the Home Run Derby at Yankee Stadium will be remembered as one of the greatest nights of his life.
Listen / Download – Ryan Braun on Derby experience. :09
Listen / Download – Ryan Braun said it wasn't easy. :11