Milwaukee Brewers ace right hander Ben Sheets will be making his 4th all-star game appearance tomorrow night in New York and he'll do so as the starting pitcher for the National League. Sheets was named the starter at a news conference this morning (Monday).
Sheets will enter with a 10-3 record and a 2.85 ERA with 28 walks and 108 strikeouts for the Brewers this season.
Ryan Braun (pictured)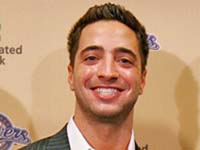 will start in left field and bat 7th. He'll represent the Brewers tonight in the home derby, one of 8 players vying for the derby title.
NL Lineup
1 Hanley Ramirez – Florida Marlins ss
2 Chase Utley – Philadelphia Phillies 2b
3 Lance Berkman – Houston Astros 1b
4 Albert Pujols – St. Louis Cardinals DH
5 Chipper Jones – Atlanta 3b
6 Matt Holliday – Colorado rf
7 Ryan Braun – Milwaukee lf
8 Kosuke Fukudome – Chicago Cubs cf
9 Geovany Soto – Chicago Cubs c
P Ben Sheets – Milwaukee rhp
AL Lineup
1 Ichiro Suzuki – Seattle rf
2 Derek Jeter – N.Y. Yankees ss
3 Josh Hamilton – Texas cf
4 Alex Rodriguez – New York Yankees 3b
5 Manny Ramirez – Boston lf
6 Milton Bradley – Texas DH
7 Kevin Youkilis – Boston 1b
8 Joe Mauer – Minnesota c
9 Dustin Pedroia – Boston – 2b
P Cliff Lee – Cleveland lhp
Listen / Download – Bill Scott on Ben Sheets getting AL Start