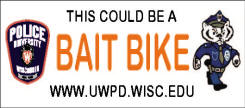 It's a new way to catch bike thieves at colleges.
In May of this year, the University of Wisconsin-Madison Police Department began using GPS technology to track stolen bicycles. Sergeant Jason Whitney says despite most students — and their bikes — absent from campus for summer break, police still managed to capture several thieves due to the new "bait bike" program.
With the GPS program in place, 18 bikes were stolen between May and August 1 with 16 arrests made.
GPS-equipped bikes are placed around campus, and when a bike is taken from its location, police are able to track it and catch the thief. As an added deterrent to thwart would-be thieves, Sgt. Whitney says students are encouraged to put stickers on their bikes.
"We handed quite a few stickers out during move-in time. Just small little stickers; you can put them on your locks and on your bikes. It has our police logo on it and in bright orange lettering it says that this could be a bait bike."
Prior to the new bait bike program, thieves were rarely caught and bike recovery was low. During the 2007 to 2008 school year the UWPD received 100 reports of bike thefts on the Madison campus, but had only one arrest. But the GPS technology is working.
"People that are caught with a bike, we are issuing them a citation for $406."
The idea to use "bait bikes" came from a college campus in Canada. Police Officer John Deering created the program in Madison and Whitney says they implemented it in May so it would be up and running before students returned in the fall. He says interest in the program is so great that he wouldn't be surprised if other campuses and communities around the state picked up on it.