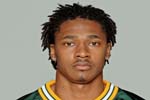 Tramon Williams (pictured) is getting ready to take over at cornerback for injured veteran Al Harris.  Williams makes his first pro start Sunday when the Green Bay Packers face the Buccaneers at Tampa Bay.  Harris is out with a spleen injury and could miss considerable time, if not the entire season.
Williams started the season as the Packers nickle corner after winning that job in training camp.  He's come a long way from being a walkon at Louisiana Tech and then signing as an undrafted free agent in Houston before being waived there.  He didn't sign in Green Bay until late November of 2006 and then started to make his climb up the depth chart.  He beat out Jarrett Bush for the nickle corner job in training camp.
Harris meanwhile is getting 3rd and 4th opinions on his injured spleen.  Packers coach Mike McCarthy said this week that the two sides are holding out hope that Harris will be able to return to action this season.
Listen / Download – Tramon Williams on making his first pro start. :12