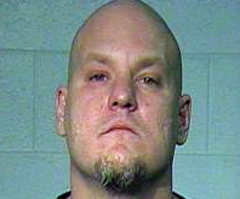 A 34 year old Illinois man has been found guilty, in the death of a real estate agent. James Hole has entered into a plea deal on a charge first degree intentional homicide for the March 21 death of 71 year-old Ann Nelson of Cambridge. Hole faces a maximum penalty of life in prison without the possibility of parole, according to Jefferson County District Attorney Dave Waumbach. A court trial was set to get under way Monday. Hole had originally entered a plea of not guilty by reason of mental disease or defect to the murder of Nelson. That plea was withdrawn and pleas of not guilty were entered on Oct. 16. At that time, a jury trial was waived and a court trial set. The state intended to call 40 witnesses to the stand and present 10 hours of video evidence. Sentencing for Hole will be held sometime after Jan. 1, 2009, according to the D.A.
Hole told police he became upset at Nelson, when she questioned why he was looking at a property he wasn't going to buy. He told police he then strangled Nelson with her scarf and hit her with a fireplace poker. He also started a box of tissues on fire. Hole took cash from Nelson's purse and her diamond ring is also missing.
Hole changed his statements a couple times as to whether he took cash from Nelson's purse. He did have money later that night, as he told police he took his girlfriend out to dinner. The two apparently had plans to head to Wausau. Hole served 10 years in prison in Illinois, for sexually assaulting a woman and stabbing her in the neck.