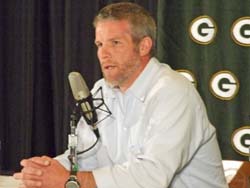 ESPN.com is reporting that New York Jets quarterback Brett Favre has a torn biceps tendon in his right arm that will not need major surgery to repair.
The 39 year old Favre routinely underthrew receivers and appeared to lose some velocity on his throws late in the season as the Jets went 1-4 down the stretch and failed to make the playoffs.
ESPN said Favre would need arthroscopic surgery to repair the injury, but coudl also play without having an operation.
The Jets are searching for a new head coach after firing Eric Mangini after three seasons on Monday.  Fvre's performance down the stretch, 2 touchdowns and 9 interceptions, was a major factor in the team's collapse.