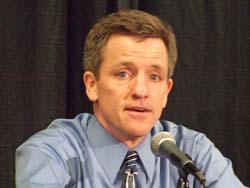 Mark Johnson has been named the head coach of the 2010 U.S. Olympic Women's Ice Hockey Team.  The announce was made moments ago by USA Hockey .  Johnson is a long-time veteran of the U.S. program as both a player and coach.  He's currently in his 7th season as head women's ice hockey coach at the University of Wisconsin .  Johnson's .802 winning percentage coming into the current season is tops among active coaches in NCAA Division I.
Along with the duties of head coach at the 2010 Olympic Winter Games in Vancouver, B.C. (Feb. 13-25, 2010), Johnson will take the reigns of the U.S. Women's National Team for the 2009 International Ice Hockey Federation World Women's Championship, set for April 4-12 in Hameenlinna, Finland.
In addition, Johnson will guide Team USA during the Qwest Tour, which will feature the 2009-10 U.S. Women's National Team playing 10 games throughout the United States in preparation for the Olympic Winter Games. 
Johnson's Badgers are 22-1-3 so far this season, including a 20-game unbeaten streak to start the season.  He's taken the Badger program to national prominence in his first six years at the helm.  Under his guidance, the Badgers have advanced to the NCAA championship game in each of the past three seasons and captured the title in both 2006 and 2007.  Since the 2005-06 campaign, Wisconsin has currently recorded 123 wins, more than any other team in the nation.
Mark Johnson won gold in 1980, tallying a team-leading 11 points, including two goals in the "Miracle On Ice" game against the Soviet Union.  Now, Johnson will try to lead the United States women to gold medal in the 2010 games as a coach.
(We'll have more on this story throughout the afternoon)
Listen / Download – Mark Johnson on hearing the news. 1:33
Listen / Download – Bill Scott on Mark Johnson's appointment. :58