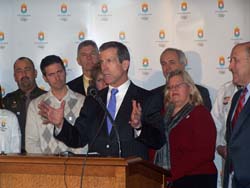 If Chicago wins its bid to host the 2016 summer Olympics, Wisconsin will play a major role in the games.
Madison has been selected as the cycling hub in Chicago's proposal to host the Olympics. As a result, Governor Jim Doyle says the surrounding area would host several major events. The proposed events include a road cycling race starting in Madison and ending at Blue Mound State Park, a mountain biking course at Tyrol Basin, and the cycling athletes' village being set up at the UW-Madison.
Doug Arnold with Chicago 2016 says Wisconsin offered many of the features they were looking for to offer challenging courses as part of their proposal. He says they consulted with many experts in their search, and all of them pointed north to Wisconsin as the best location.
Kenosha native Robbie Ventura, who competed in the Tour de France with Lance Armstrong, says the Madison-area offers exactly what the international cycling community is looking for in an Olympic course. He says a mix of flat areas and rugged terrain will offer a major challenge for the competing athletes.
A decision on whether Chicago will host the 2016 games is expected in October.