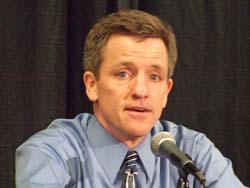 Wisconsin women's hockey coach Mark Johnson may be the most decorated sportsperson in Wisconsin history and by tomorrow afternoon, could be adding to his resume.
USA Hockey has called a news conference in Madison tomorrow to announce the head coach of the 2010 U.S. Olympic Women's Ice Hockey Team. Johnson is one of the finalists for the position and the location of the press conference would point towards Johnson receiving the honor.
Johnson has led his top-ranked Wisconsin women's hockey team to three straight NCAA Championship games, winning two out of the last three.