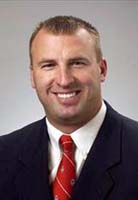 The Wisconsin Badger football team went into National Signing Day convinced they would have a 2009 recruiting class of at least 20 players. The 21st player they added is one that's considered a big catch.
Wide receiver Kraig Appleton from East St. Louis, Illinois, had earlier indicated he would attend Illinois. But when it came time to sealing the deal, Appleton's letter of intent went to Bret Bielema and the Badgers. Now Bielema's recruiting class consists of 21 scholarship players and three preferred walk-ons. The Badgers were looking for a big, physical receiver and they found that player with Appleton.
Overall, Wisconsin's 2009 class was ranked seventh in the Big Ten by both rivals.com and scout.com. — Following are the members of Bret Bielema's 2009 recruiting class.
Kraig Appleton (WR) 6'4, 200 East St. Louis, Illinois
Montee Ball (RB) 5'11, 215 Wentzville, Missouri
Chris Borland (LB) 6'0, 220 Kettering, Ohio
Jon Budmayr (QB) 6'1, 185 Woodstock, Illinois
Casey Dehn (OL) 6'6, 295 Owatonna, Minnesota
Tyler Dippel (DE) 6'3, 250 Slinger, Wisconsin
Jeff Duckworth (WR) 6'0, 195 Cincinnati, Ohio
A.J. Fenton (LB) 6'2, 215 Erie, Pennsylvania
Travis Frederick (OL) 6'4, 315 Sharon, Wisconsin
David Gilbert (DL) 6'4, 220 Savannah Lamar, Jamaica
Ryan Groy (OL) 6'5, 300 Middleton, Wisconsin
Shelby Harris (DL) 6'4, 240 Milwaukee, Wisconsin
Jordan Kohout (DL) 6'4, 260 Waupun, Wisconsin
Zac Matthias (OL) 6'5, 290 Hemlock, Michigan
Pat Muldoon (DL) 6'4, 255 Mason, Ohio
Conor O'Neill (LB) 6'1, 200 Delray Beach, Florida
Jacob Pederson (TE) 6'5, 210 Menominee, Michigan
Josh Peprah (DB) 6'0, 195 McKinney, Texas
Dezmen Southward (DB) 6'1, 190 Sunrise, Florida
Darious Thomas (DB) 5'11, 174 Cedar Hill, Texas
Brian Wozniak (TE) 6'5, 230 Loveland, Ohio
Preferred Walk ons
Ethan Armstrong (LB) 6'2, 225 Ottawa, Illinois
Ethan Hemer (DL) 6'5, 250 Medford, Wisconsin
Nick Hill (LB) 6'2, 200 Milwaukee, Wisconsin
Listen / Download – Bret Bielema on 2009 recruiting class 14:50