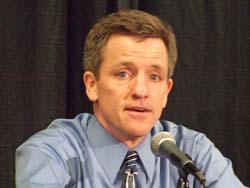 Wisconsin women's hockey coach Mark Johnson earned his 200th head coaching victory when his Badgers blanked Ohio State 7-0 on Sunday at the Kohl Center.
Johnson is in his seventh season with the Badgers, and has an all-time record of 200-38-20.  Winning the series, Wisconsin moves to 24-1-3 (18-1-3 WCHA). 
Jessie Vetter earned her 35th career shutout and 10th of the season to match her season best and NCAA record.  Angie Keseley scored two goals in the first period and added three assists later for a career-high five point game.
The Badgers travel to Minnesota to battle for the league lead at the Ridder Center in Minneapolis Feb. 7-8.