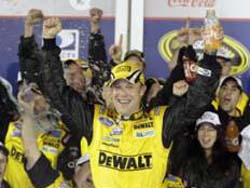 After going winless on the Nascar Nextel Cup Circuit last year, Cambridge, Wis. native Matt Kenseth started off 2009 with a win in Nascar's biggest race, the Daytona 500.
Kenseth led for only 7 laps during the race, including a 2-lap stretch when rain forced the race into a waiting mode and Kenseth was eventually crowned the winner with 48 laps to go.
Kenseth has won the points championship before (2003), but he's never won the Daytona 500, until now that is. He has 17 wins in the Nascar Spring Cup Series, but is average finish at Daytona before yesterday's win was around 19th. It's also a big racing payday for Kenseth, who takes home the winners check worth $1,536,388.
Kenseth's win had a little bit of luck to it as well. He was right in the middle of a crash on lap 124 that eliminated laps leader Kyle Busch. Kenseth was able to skirt through the trouble and eventually take the lead before the rains came.
Kevin Harvick finished second, ahead of AJ Allmendinger, Clint Bowyer and Elliott Sadler.
Listen / Download – Kenseth says this is an important win. :12
Listen / Download – Kenseth says rain doesn't diminish this win. :15