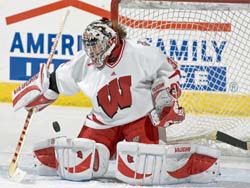 The Wisconsin women's hockey team has played in the last three NCAA Frozen Four's , winning two of them. The Badgers beat Dartmouth 7-0 Saturday in Madison in the NCAA Quarterfinals and will make their 4th straight Frozen Four appearance.
Wisconsin will face Minnesota-Duluth in Friday's semifinals. UMD beat New Hampshire 4-1 in the weekend quarterfinals. The two teams will hook up Friday evening in Boston.
Jessie Vetter (pictured) was in the nets for her NCAA record 13th shutout of the season, extending her career totals to 38 shutouts.
Senior forward Angie Keseley had three goals and two assists and sophomore winger Hilary Knight added two goals and four assists in the win for the Badgers on Saturday.
Listen / Download – Mark Johnson on facing UMD in Frozen Four semifinals :09
Listen / Download – Jessie Vetter says Badgers are on a roll :11