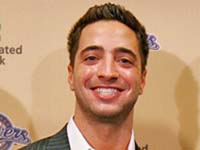 Milwaukee Brewers outfielder Ryan Braun suffered a strain to his right intercostal on Sunday night in Team USA's game in the World Baseball Classic.  It's the same injury that forced him to miss 6-games last season, an injury that saw his offensive production slide dramatically.
Braun will stay with Team USA in Miami as it plays in the second round of the WBC and will be re-evaluated today.  He's described as day-to-day.  Braun's injury is described as very mild.
BREWERS 9, CUBS 6 — In Cactus League play on Monday, Bill Hall clubbed a 3-run homer to lead the Brewers to a 9-6 win over the Chicago Cubs.  Corey Hart also hit his 4th of the spring for the Brewers.  Dave Bush allowed 1 run on 6 hits in four innings of work.