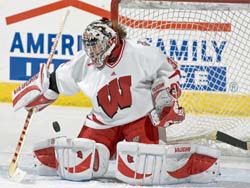 For the first time in school history and only the second time ever, three Badgers are named to the 2009 Patty Kazmaier Memorial Award top 10 finalists.  Sophomore Hillary Knight and seniors Erika Lawler and Jessie Vetter (pictured) have been chosen by NCAA Division 1 women's ice hockey coaches as part of the 10 finalists.  The award annually recognizes the top player in NCAA Division I women's ice hockey.
The only Badger to have won the award was Sara Bauer in 2006.
Knight, Lawler and Vetter have helped lead the Badgers to a 29-2-5 season.  Knight leads the NCAA with 39 goals and ranks second iwth 1.15 goals per game.  Lawler leads the NCAA with 39 assists, ranked second in the NCAA with 1.11 assists per game.  Vetter has a 28-2-5 record in 35 games in goal and ranks second in the NCAA in minutes played.  She's recorded 12 shutouts this season and is tied for the NCAA single-season record.