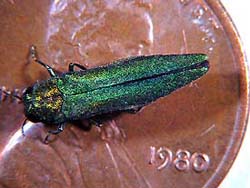 An infestation of emerald ash borer has been found in Vernon County, prompting an almost certain quarantine of Vernon and Crawford Counties to try to contain the tree-killing insect. The infestation was discovered in Victory, right on the Mississippi River about a mile south of the Minnesota-Iowa border.
Mick Skwarok with the Wisconsin Department of Agriculture, Trade and Consumer Protection says, over the next few days, state and federal officials will tour the area. A larger survey will be done later to determine the age and size of the infestation. Skwarok says it's too early to say how the insect may have gotten there, and they may never know.
Skwarok says the new infestation presents additional difficulties for the state. He says it's discouraging to find another infestation, so far outside of the initial discovery in Ozaukee and Washington Counties.