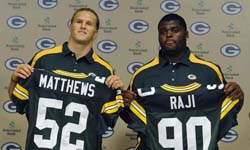 Most of the time, NFL rookies, even those taken high in the draft, are behind the 8-ball when it comes to learning a new system.  But this year is different for the Green Bay Packers' rookies.  With the Packers going to a 3-4 defensive scheme, first round picks B.J. Raji and Clay Matthews are learning just like the veterans and will be given every opportunity to start or get significant playing time. 
The Packers are opening up their rookie orientation weekend today and the teams two first round picks (Raji & Matthews) met with the media a day in advance.  They've been told by the Packers coaching staff that they're on more of a level playing field going in.
All eight of the Packers 2009 draft choices will be on hand this weekend, plus the 12 undrafted free agents and about 20 more players in for tryouts.  All of the practices will be indoors and closed to the public.
Both Raji and Matthews admitted to heading for their computers when picked by the Packers to find out what Green Bay was all about.  Both come from highly populated areas and know there'll be a significant lifestyle change moving to Green Bay. 
Listen / Download – Matthews on finding out more about Green Bay. :17
Listen / Download – Raji is excited to be a Packer. :15