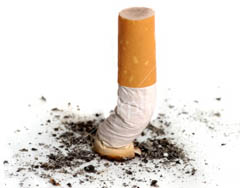 A statewide smoking ban is on its way to the governor's desk.
The Assembly on Wednesday night gave final approval to a ban on smoking in all workplaces with a 61-38 vote. State Representative Spencer Black (D-Madison) says the measure is about protecting workers from exposure to second hand smoke.
Lawmakers blocked passage of over 25 amendments to the bill, including proposals to extend the ban to tribal casinos, an exemption for taverns, and allowing hotels to have smoking rooms. State Representative Robin Vos (R-Racine) criticized Democrats for stopping the changes, and just going with what the Senate had already approved.
The Senate earlier in the day also approved the measure, which was a  compromise between legislative leaders, smoke free groups, and the Tavern League of Wisconsin.
State Representative Leah Vukmir (R-Wauwatosa) says the measure goes too far and takes away the rights of businesses to make their own decisions. However, state Representative Jon Richards (D-Milwaukee) says workers shouldn't have to choose between risking their health and holding on to a job.
The governor is expected to sign the legislation, with the ban going into effect on July 5th of 2010.