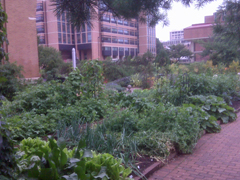 Some diners at UW Madison are enjoying really fresh veggies. They don't come much fresher than the salad greens being served at Frank's Place dining facility in Holt Commons. The produce is grown just a few hundred feet away, and supplements the salad bar offerings to some 800 high school students on campus for various summer camps.
The small "kitchen garden" also provides instructional opportunities. "I work with the dietetic students, and many of them have grown up with no understanding of gardening," says Monica Theis, senior lecturer in the Department of Food Science. "So it's another opportunity that we have here, to help our students understand what it means to grow a garden."
At this point, the garden is just supplementing the dining hall. "We can't possibly source 800 meals from this small amount of space," says Theis. "But what we're trying to do is learn how we can help large volume food service operations source locally." Theis notes that area school districts like Madison and Middleton produce thousands of meals daily. "It's very difficult to get a consistent source of supply that could guarantee fresh produce from a local source every day."
The vegetables, growing next to a historic house in Allen Centennial Gardens on the UW campus, are also going into Babcock Dairy Store sandwiches and salads. "This lettuce has been remarkable" Thies says. "It's unusual to have lettuce growing this time of year, but the cooler temperatures have been helping us. So when it's realistic we've been harvesting it and taking it over to Babcock Hall, and they've been using it in their deli shop. They're anxiously waiting for the tomatoes."