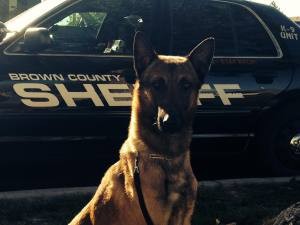 A newly signed state law will help police K-9 units on duty after they have to use force to apprehend a suspect.
Governor Scott Walker signed legislation last week in Green Bay that eases a requirement that police dogs that bit a person have to be quarantined until after a series of vet visits. Previously, the dog had to visit the vet within 24 hours, another 10 days later, and finally make a third visit.
"Here and across the state you've got dogs who are already vaccinated, they're healthy, they're observed and so to have them have to be taken out of service via quarantine just doesn't make a whole lot of sense," Walker noted while signing the bill.
Officer Joe Merrill is the handler of K-9 Neo, a patrol dog with the Green Bay Police Department since 2010. He said the law makes a lot of sense to those who work with the animals. "We keep a very documented vet history of our dogs where they're constantly checked up on. They're up to date on all their shots and all their immunizations and especially on rabies," Merrill said.
WTAQ