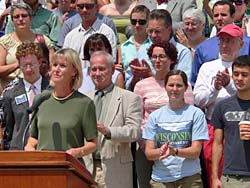 The nations lieutenant governors take on the issue of global warming and energy independence, and Wisconsin's Lt. Governor leads the charge.
Lt. Governor Barbara Lawton calls it an "Energy Renaissance," and says the need to act is now because time is of the essence.
"In a vaccuum of leadership and action in Washington DC, the states become critical laboratories for program pilots that eventually will inform federal policy."
Lawton says about 20 of the nation's lieutenant governors signed on as co-sponsors, pledging to use their offices as a platform for their goals of cleaning the air and reducing energy dependence.
"To reduce greenhouse gas emmissions to 7% below 1990 levels by the year 2012, and by 60% to 80% below 1990 levels by mid-century."
Lawton wants the feds to provide resources to help states to fund incentives to bring the private sector into active partnership to avoid heavy-handed regulations. Lawton cites many reasons why she says it's time to set into motion a response to what she called a "carbon-constrained economy."
"Consider the benefits to our families, our businesses, and communities; the increased profit potential and better jobs; the quality of life that we can preserve and improve if we agree today to partner around a bold vision for Wisconsin's future."
Lawton authored and sponsored the National Lieutenant Governors Association Energy Independence and Climate Protection Resolution .