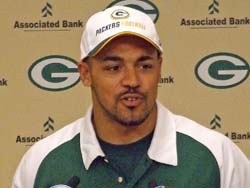 For the 6th time in 9 games this season, the Green Bay Packers have allowed an opponent to rush for 175 yards or more.  The Minnesota Vikings pushed their total to 220 yards, 192 of those yards coming from 2nd year running back Adrian Peterson, including 29 yards on the game winning touchdown with just more than two minutes to play.
The Packers defense forced three pass interceptions from quarterback Gus Frerotte, but couldn't stop Peterson.  The Packers still got the ball back with a chance to win it, but Mason Crosby's 52 yard field goal attempt sailed wide right and Minnesota ended a 5-game losing skid against Mike McCarthy and the Packers.
Aaron Rodgers was under immense pressure the whole game from the Vikings' pass rush.  When he wasn't being sacked, he was being hurried or knocked down.  His passer rating of 72.9 is one of his worst this season and the Packers converted just 1 of 11 on third downs.  The Packers were also forced into a pair of safeties, although one of the two appeared to be a bad call by the referee. 
But the most concerning aspect of the game is the continued mistakes and penalties.  The Packers were penalized 10 times for 80 yards.
The Packers also suffered a big blow to a member of their defense.  Linebacker Nick Barnett (pictured) is out for the season with a torn knee ligament.  Surgery has not yet been scheduled, but Mike McCarthy confirmed the season ending injury at his Monday News Conference today.  Barnett will be missed.  Adrian Peterson tallied 125 of his 225 total yards from scrimmage on Sunday after Barnett left the game.
The Packers are 4-5 and will host the Chicago Bears this Sunday at Lambeau Field.